Mahashivaratri...
Mahashivaratri means the great night of Lord Shiva and it is observed on the fourteenth lunar night or Chaturdasi of the dark fortnight called Krishna Paksh, in the Hindu month of Phalgun. This corresponds to late February and early March in the English calendar. Mahashivaratri's time duration is such that the lunar day must pass through midnight in order for it to be considered as Mahashivaratri.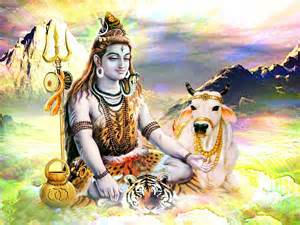 The reason for the distinction is because in each month on the fourteenth lunar day of the dark fortnight there is a Shivaratri but not a Mahashivaratri. Now that would make a total of eleven Shivaratris in one year but only one Mahashivaratri.
Mahashivaratri puja consists of four individual pujas. The first puja starts at sunset and with two hour intervals, the remaining three is done. The last puja must finish at midnight. A vigil or jagran is maintained all night until just before sunrise of the next morning. Bhajans and kirtan are sung in order to maintain this vigil and discourses relevant to the occasion are read.