Navaratri or Nawraatri...
Navaratri is another very sacred time in the life of Hindus. Navaratri literally means "nine nights" and these specific clusters of nine nights occurs five times during the year. Interestingly enough, only two of these clusters are of any major consequence to most Hindus. The cluster called Chaitra Navaratri and the other called Sharad Navaratri are the most important ones and are celebrated or observed by the majority of bhaktas or devotees. Chaitra Navaratri occurs during the months of March-April and is observed during the waxing phase of the moon or the bright fortnight. The beginning of this cluster of nine nights marks the start of the New Year for Hindus and worship of the Divine Mother in the form of Durga is a high priority for Hindus.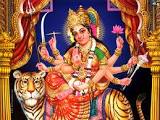 Sharad Navaratri occurs during the months of September-October during the bright fortnight. This is a Maha-festival and once more Goddess Shakti in her various forms is worshipped. This nine night cluster is divided such that three of these nights are for worshippping Durga or Kali, another three dedicated to Goddess Lakshmi and three for worshipping Saraswati. Ramleela celebrations also runs con-current with Sharad Navaratri. It is a time when Hindus avoid non-vegetarian food and indulge in fasting and lots of praying.